Long-handle pickleball paddles are a game-changer for players seeking a competitive edge. They provide extended reach and a more comfortable grip than standard-sized paddles, making them an indispensable part of any player's gear. Not only do they offer a more natural feel, but they also provide greater control over shots. We have compiled a list of the best long-handle pickleball paddles based on extensive research and player feedback. Without further ado, let's jump right in.
Franklin Sports Sweet Spot Training Pickleball Paddle
The Sweet Spot Trainer Pickleball Paddle from Franklin Sports is an exceptional paddle intended to uplift your pickleball training. Its mini head size is crafted to imitate a standard paddle and is specifically designed to focus on the sweet spot. In addition, the Paddle's surface is constructed with premium T700 carbon fiber, providing greater control and spin over shots. The peddle core is 16MM thick and emulates the weight and performance of top-tier pickleball paddles, allowing players to train as they play.
The Franklin Sports Sweet Spot Trainer Paddle makes hitting the sweet spot consistently easier than ever before. This Paddle offers a reliable sweet spot, empowering players to hit with more precision and power, leading to more accurate and forceful shots on the court. Overall, the Franklin Sports Sweet Spot Trainer Paddle is an excellent investment for players who passionately want to improve their overall performance.
Features
It features a 16mm size, offering players a good equilibrium between power and control
With a grip size of 7.3 inches, this Paddle provides players with a secure and comfortable hold over the ball
Constructed from polypropylene, a sturdy and lightweight material, this Paddle enhances the maneuverability and responsiveness of the shots
The frame of the Paddle is made of carbon fiber, providing additional rigidity and durability to the structure,
A reliable paddle for a more dependable and forceful strike because of its strategically devised structure.
Sweet spot trainer improves skills
An elongated handle enhances the grip
Carbon fiber surface increases durability
 Perfect training tool for advancement
Not for players with small hands
longer handle may make the paddle slightly heavier
Sporty Blue Graphite Pickleball Paddle
The USAPA approves the Sporty Blue Pickleball Paddle offers a wide range of features. One of its standout features is its solid and durable surface, providing pickleball players with excellent control-confidence to gain an edge over their competitors. In addition to its graphite surface, the paddle also features a robust and flexible polymer core that generates extra power and mobility. This core is one of the quietest on the market, making it a first pick for indoor play and communities with noise restrictions.
Another salient feature of the Sporty Blue Pickleball Paddle is its sandpaper-textured graphite material, renowned for producing superior ball spin. Hence, for individuals striving to up their performance bar and unleash their full potential, this is the ultimate fix. The paddle is built to propose a relaxed grip for all proficiency levels, with a handle length of 5 inches and a circumference of 4.25 inches. This ensures that players can hold the paddle securely and comfortably, allowing them to focus on their game without worrying about their grip slipping. Its framework furnishes rigidity, stability, and power transfer, ensuring maximum control and precision. Besides this, a 5-inch handle length allows for extended play without causing fatigue in the hand. So, boost your pickleball practice with the Sporty Blue Graphite Pickleball Paddle and discover your hidden pickleball capabilities.
Features
The 15.82-inch length provides a longer reach
It has a weight range of 7.6-8.0 ounces, which makes it a well-balanced paddle
Its graphite shaft offers excellent flexibility, responsiveness, and shock absorption
Comes with a grip size of 4 1/2 inches, providing a dependable and safe grip on the hands
It is a versatile choice for beginners, intermediate, and advanced players
Cushioned grip
Designed for adults 
7.80-inch Wide sweet spot
0.63-inch thickness
reduced maneuverability for young players
Quick shots can be tricky for newbies
F2 Sports Graphite Pickleball Paddle
The F2 Sports Graphite Pickleball Paddle is a beautifully designed and fun-to-use product. It is constructed with a light and powerful graphite surface that's well-suited to meet the demands of beginners and seasoned professionals alike. Furthermore, the Paddle's hardy and flexible polymer core adds a layer of regulation and endurance, ensuring the product lasts many games without being damaged or spoiled. The Sporty Blue Pickleball Paddle stands out from other long-handle pickleball paddles due to its sandpaper-textured graphite surface, which is considered a flawless option for a spin and accurate shot placement. The cushioned grip on the Paddle delivers smooth handling and has a 5″ handle length perfect for extended play sessions.
Another unique quality of the Paddle is the quietness of its polymer core. This makes it ideal for indoor play, where quieter equipment is preferred. Its easy-to-clean grip material ensures a hygienic playing environment. .F2 Sports Graphite Pickleball Paddle supports players to reduce the risk of wrist strain; this Paddle is lighter in weight than traditional composite paddles, with a mid-weight design. It generally ranges between 7.6-8.0 oz, allowing players to make precise shots without feeling weighed down. Simply put, made in Michigan, the Paddle perfectly blends beauty and performance. It holds all the qualities to become your best buddy paddle in the long run.
Features
The paddle is resistant to deterioration from regular use
Despite being made of a graphite material, the paddle is lightweight
It meets high-quality standards and is compliant with official tournament regulations
The grip material on the paddle needs low maintenance and is straightforward to clean
The paddle is suitable for adult players of all ages who wish to improve their skills with great game enjoyment
quality with durability
Portable and compact 
Best for lasting performance
standard size grip of 4 1/4 inches
Standard weight option for quick play
May not suit a defensive playing style
JOOLA Solaire Professional Pickleball Paddle
The JOOLA Solaire Professional Pickleball Paddle is a true work of art, combining precision, comfort, and style in a one-of-its-kind way. JOOLA's CFS tech attributes are a top feature of this paddle, possessing a Carbon-Flex5 surface that enhances its durability, provides maximum spin, and gives it an extra edge of raw power liked by players of all skill levels. The USAPA-approved long-handle paddle also comes equipped with an Aero-Curve head design, effectively reducing drag and increasing swing speed.it is developed with the next generation of players in mind, catering to their unique playing styles and needs.
The 14mm dimensions of the JOOLA Solaire Professional Pickleball Paddle enable players to deliver forceful shots with exacting accuracy. Additionally, the 5.5-inch handle size guarantees a comfortable and secure grip, even during prolonged matches. The paddle's sleek and stylish color scheme, "Solaire CFS 14 mm," aligns with the latest trends… Weighing just 0.53 pounds and measuring 16 x 8 x 0.55 inches, this long-handle paddle is lightweight and easy to manage. Its shaft is constructed with carbon fiber, which provides a sturdy build without adding unnecessary heaviness. Overall, the JOOLA Solaire Professional Pickleball Paddle is a top-performing paddle that impresses most pickleball enthusiasts, setting a new standard for what a pickleball paddle can be.
Features
The handle dimension is 5.5 inches, offering the player a snug and firm grip.
Its compact size of 14mm makes it easy to deal with in various game situations.
ThepPaddle comes with a 120-day limited warranty, providing a sense of security.
Made of plastic, the paddle guarantees consistent utilization and protection against injury.
Vibrant and stylish design 
Modern and tech-filled
Hyperfoam Edged wall
Customized for elite players
Minimal Vibration
may hinder one-handed shots
newbies require extra wrist mobility
Diadem Warrior Edge Pickleball Paddle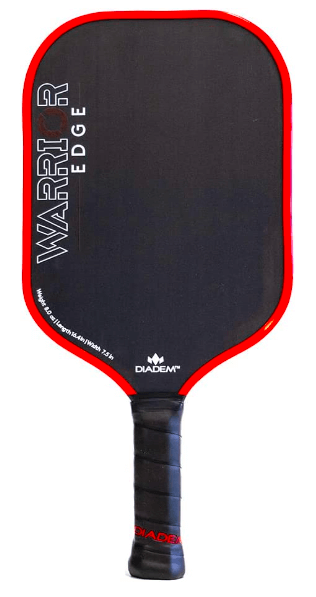 The Diadem Warrior Edge Pickleball Paddle is a high-performance paddle. It has a refined, sophisticated design, with dimensions of 16.4″ x 7.5″. This long-handle Paddle weighs 8.0 oz, which contributes to its accessible and smooth handling. The 16mm Aero Guard protects the Paddle and amplifies the core strength and usability. It is a reliable paddle for players of all levels for competitive play.
The vertically etched Carbon Fiber surface provides the 'bite' that players need to bend the ball to their will, allowing them to hit shots with forceful spins. Compared to the thick core paddles, it has a thinner profile, with a thickness of only 16mm, which allows for more maneuverability and speed. The molded Taper Tech grip circumference measures 4-1/8 inches, offering the player a secure and firm hold. Its handle is 5 inches long and wrapped in a soft-smooth tacky grip. In addition, the handle-biased weight of the Paddle allows players to easily maneuver it according to their needs. This advantageous feature of the Diadem Warrior Edge Pickleball Paddle makes it a popular choice among avid players who love it. Join the league of zealous players and experience the excitement of playing with this high-performance Paddle.
Features
A grip Size of 4 1/8 inches for improved court performance
Friendly for aggressive players who want maximum spin potential
Core thickness is 16mm, giving players the confidence to take on their opponents
Enables players to maintain complete court control in both singles and doubles play
Etched carbon fiber surface technology enhances grip and improves service accuracy
Excellent comfort 
Increased area of coverage
The best companion for fast hands
USA Pickleball Body approved
New players may struggle with the paddle's bounce
Onix Recruit 1.0 Pickleball Paddle
If you're an entry-level player wishing for a reliable and durable pickleball paddle, the Onix Recruit 1.0 Pickleball Paddle is a steadfast tool. The design of this Paddle guarantees consistency in playing with it for years. Its 6-ply basswood construction is known for its sturdiness and durability. In addition to its sturdy construction, the Paddle is a fantastic style and easy piece. Its neat black color is well-liked among players who prefer a minimalist, understated look. The Paddle's white and orange distressed Onix logo adds a touch of flair and personality.
The Onix Recruit 1.0 Pickleball Paddle stands out for its remarkable versatility, making it suitable for players of all ages and highly advantageous for young talents. Its forgiving sweet spot and lightweight construction allow for improved shot control with less fatigue from frequent paddle movements. This enables players to focus on refining their skills and techniques, resulting in a significant confidence boost and a more enjoyable playing experience, especially for children. Equip yourself with the Onix Recruit 1.0 Pickleball Paddle to rise and shine like a true winner.
Features
Suitable for players of all ages and skill levels
Black color reduces glare and distractions, improving focus on the game
Made of wood, a common material for beginner and intermediate-level paddles
Comes with a 90-day warranty, covering any defects in materials or craftsmanship
High precision
Easy handling
Lightweight (Size 3 lbs)
giving beginners an upper hand in the game
added length can unbalance the paddle
Key Takeaways & Our Top Picks:
Long-handle pickleball paddles provide added reach and are more comfortable to hold for those who find standard-sized grips too small and need additional reach or have larger hands. Consider the paddle's durability, surface texture, and sweet spot when making your selection, and don't forget to try out a few different models to find the perfect fit for you, as every player has unique preferences when it comes to the feel and performance of their paddle.
Based on our thorough research, we've narrowed down our favorite, best long-handle pickleball paddles. Franklin Sports Sweet Spot Training Pickleball Paddle is a top-of-the-line paddle with a longer handle and larger surface area, providing players with added reach and a larger sweet spot. Sporty Blue Graphite Pickleball Paddle also features a longer handle and a unique Kinetic System that reduces vibration and shock, resulting in less fatigue during gameplay. Ultimately, it's important to choose a paddle that fits your individual preferences and playstyle, as this greatly impacts your performance and love for the game.