Pickleball requires skill, strategy, and the right equipment. Mid-range paddles are economical and high-standard too. Investing in it allows you to enjoy enhanced gameplay without breaking the bank. With our list of the best mid-range pickleball paddles, rest assured that you're making an informed choice for a paddle that enhances your gameplay and fits your budget, highlighting its unique features and advantages.
Keep on reading.
JP WinLook Pickleball Paddle Set of 2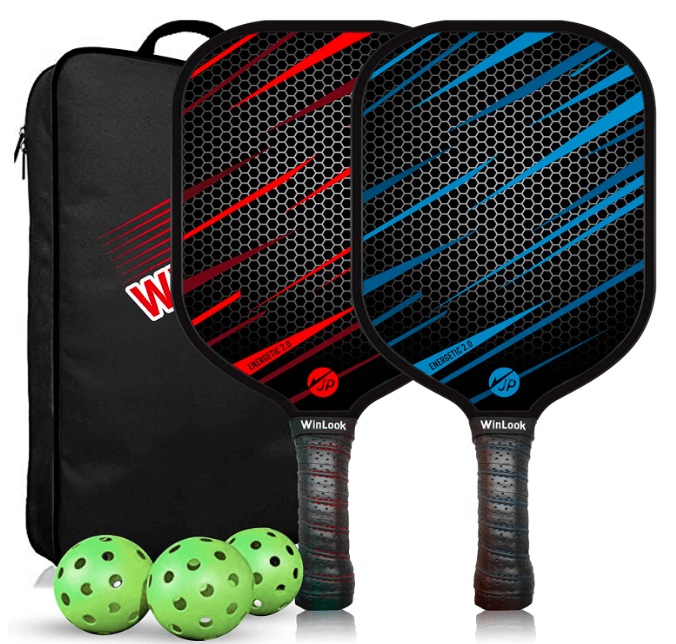 Are you tired of struggling with poor control, lack of power, and disruptive impact noise during your pickleball games? Heads towards JP WinLook Pickleball Paddle: the solution to all your problems. The peddle comes in a set with two premium paddles, three balls, and a convenient carry bag, providing everything you need to raise the bar of your gameplay.
The JP WinLook Pickleball Paddle is built with tough and resilient materials. It features a honeycomb core with a face-core combination to improve control and hitting strength. On top of that, the paddle's grip is ultra-soft, cushioned, and non-slippery, designed with a contoured and textured shape that ensures a comfortable and secure hold. The perforations in the grip help to absorb sweat and enhance your handling abilities. The paddle is valuable for players of all skill levels. With a length of 5.27 inches, it fulfills the needs of men, women, and youth. The paddle comes in bold shades of red or blue, combining style and performance, making it an essential addition to your equipment. Get the JP WinLook Pickleball Paddle set today and experience the difference.
Features
The paddle's materials are durable, providing the best value for usability
It can be used for playing both inside and outside
Players of all ages and genders can use this paddle
The fiberglass face delivers excellent pop and a responsive feel on ball contact
Its strong grip allows the player to have better control over the ball
Better control & power
Reduced impact noise
Stylish & versatile
Comfortable and easy-to-handle 
 Sweat-absorbing slots
Limited color options 
It may not suit all preferences
Niupipo Pickleball Paddle
With the best mid-range pickleball paddles, like the Niupipo Paddle, you can experience the difference that high-quality materials and superior design can make seamlessly. The paddle is made of a high-quality graphite material, making it durable and strong. This pickleball paddle is designed for adults, with a premium grip and handle size that's comfortable to hold effortlessly. The paddle is also perforated, which helps absorb sweat, keeping the player's hands dry and improving grip. Designed to meet the USAPA standards, this pro pickleball paddle caters to players of all skill levels, from beginners to pros.
The paddle features a fiberglass surface that delivers enhanced power, surpassing the performance of paddles with graphite surfaces. Moreover, the fiberglass surface provides a gentle cushioning effect for each hit, maximizing your playing recreation. Additionally, its larger honeycomb cells and polypropylene structure makes these paddles a must-have on your bucket list, as they hold up well during gameplay. The paddle produces less noise and exhibits remarkable power as a softer material. The Niupipo Pickleball Paddle weighs between 7.62 to 8 ounces, making it easy to handle. Its superior design and materials improve your game techniques with ease and intelligence, so you must try it.
Features
The paddle is ideal for beginners
Its grip size is 4 4/5 inches, providing players with a firm grip
It reduces fatigue and stress on the elbow and shoulder to keep you calm and rested
Its edge protection minimizes mishits and damage caused by ground hits
It provides an ideal level of strength and stiffness necessary for flawless gameplay
Easy handling
Widebody shape for improved hits
Face dimensions: 10.71″ L x 7.80″ 
Face thickness: 0.43″ H 
Midweight design is not beginner-friendly
May not be compatible with some playing styles
HEAD Radical Elite Pickleball Paddle
The HEAD Radical Elite Pickleball Paddle best suits beginners seeking an affordable, reliable paddle and offer versatility for various skilled players. Its grip size of 4 1/4 inches is good-matched for most adult players. Its larger sweet spot enhances power and accuracy, with a thicker OTC honeycomb core and, ergo, grip for improved playability.
The paddle boasts a dynamic power shape to enhance user-friendliness, and the elegant fiberglass surface delivers a sturdy sensation in contact with the ball. Its carefully crafted polymer material used in the paddle construction is built to last. Moreover, its frame and shaft are manufactured with graphite, offering easy suitability. With its mid-weight design at 230 grams or 8.1 ounces, the HEAD Radical Elite Pickleball Paddle strikes the perfect balance between power and control. The paddle is available in a beautiful, vibrant color that adds a touch of style to your game. Its appealing design contributes to the overall aesthetic of your pickleball gear, proving it a stylish addition to your sports equipment collection.
Features
Its polypropylene honeycomb core is for added strength and durability
The Ergo Grip provides a comfortable hold and allows improved control
The paddle offers a perfect touch every time and minimal vibration for smoother gameplay
The grip size of the paddle is 107mm or 4 1/4 inches, making it suitable for many players
Length of 16 inches for good reach
Compact width of 7 7/8 inches 
 longer length leads to stronger hits
Wider width increases the sweet spot
Well-balanced dimensions for all-around play
Restricted to adult players only
Baddle Ballista Green Midweight Pickleball Paddle
The Baddle Ballista Green Midweight Pickleball Paddle is perfect for new and experienced players. Its midweight design gives you a nice balance, which makes playing on the court easier. At 16.5 inches, the paddle's length is just right. Its surface has a special SpinGrit coating that assists you in holding onto the ball better. Baddle pickleball paddles are considered to be the first elongated paddle, which increases the surface area to improve effectiveness. The paddle is also stylish but doesn't sacrifice function for looks. Therefore, the Ballista paddle not only looks good, but it also works well on the court.
Its use of Graphite as the surface material ensures durability and consistent performance over time, as Graphite is known for its exceptional strength-to-weight ratio. The paddle looks really cool with its green color scheme. If you want a top-quality pickleball paddle that looks trendy and helps you play better, go for the Baddle Ballista Pickleball Paddle!
Features
It can withstand frequent use and provide a smooth shot selection
The weight range of 7.9oz to 8.3oz makes it easy to swing and maneuver the paddle.
This paddle maintains a firm hold with an Anti-Slip Grip, even during extreme rallies
The paddle is USAPA Approved for Tournament Play; you can use it in sanctioned competitions without issue
Easeful grip size of 4 1/4in
Optimal Width of 7 1/2in 
Polymer honeycomb core
Gentle on joints
May not suit heavy hitters
It may take time to adjust
ONIX Graphite Z5 Graphite
ONIX is the premier maker of top-notch pickleball gear that lets players perform at their peak. The Graphite Z5 Pickleball Paddle stands out as ONIX's most beloved product. This paddle boasts an exceptional touch and control that will raise your pickleball game from beginner to advanced. Designed to mimic the handle shape of a tennis racket, the Graphite Z5 Pickleball Paddle ensures a comfortable grip. It provides fantastic spin and control during play, ensuring you deliver your best performance. The Z5 paddle is constructed to withstand tough conditions and comes with an edge guard to protect it from any damage during play.
With a moderate mass ranging from 7.5 to 8.2 pounds, the ONIX Z5 Pickleball Paddle is perfect for players who seek outstanding ball regulation along with the intermediate-weight comfort of graphite. The Z5 paddle meets and surpasses USAPA and USA Pickleball regulations, making it the perfect choice for official tournament play. Consider using the high-quality Graphite Z5 Pickleball Paddle from ONIX, the preferred choice of champions, to enhance your pickleball skills.
Features
It is designed to cater to the needs of beginner-level users
providing a user-friendly experience with simplified controls and instructions
The grip size is 4 1/4 inches, providing the user with a cozy and secure hold
Using plastic as the primary material provides a cost-effective option for many players
Carbon fiber durability
Graphite shaft stiffness
Convenient portability
Adult-appropriate size
Sensitive to weather conditions
In a Nutshell
By doing a thorough research and considering your gaming needs, you can find the best mid-range pickleball paddles to improve your game with quality and affordability. We have seen some of the top contenders in this category, including the ONIX Z5 Graphite and JP WinLook Paddle, which provide exceptional performance and value for their price range. Other peddles like the Niupipo Pickleball Paddle, the HEAD Radical Pro Pickleball Paddle, and Baddle pickleball paddle Ballista deserve consideration for their unique features and quality.