The popularity of pickleball has led to an increase in demand for superior-quality paddles. Onix has emerged as one of the top paddle brands in the market. These paddles fulfill amateur and professional players' requirements with expert craftsmanship and innovative technologies. In the following article, we will review the best Onix pickleball paddles available, highlighting their unique features and ensuring an enjoyable and successful game for you every time.
ONIX Graphite Z5 Pickleball Paddles
The ONIX Graphite Z5 Pickleball Paddle is a good mix of durability and remarkable ball control. Its highly resistant manufacturing materials protect the paddle against moisture and impact, ensuring its longevity even with exposure to harsh elements and frequent use. The Z5 paddle displays an exquisite graphite face and Nomex core construction that work harmoniously to provide unrivaled responsiveness and feel to the ball. This paddle perfectly balances power and speed with a total weight of 7.5-8.2 ounces. Its Wide Body shape emphasizes a generously-sized sweet spot.
The flared, wood handle ( closely resembles a tennis racket's handle shape) enhances its comfortable grip and excellent spin control. In addition, the edge guard protection allows the Z5 pickleball paddle to endure even the most tiring pickleball matches and severe environmental conditions because each Z5 pickleball paddle has an edge guard for extra protection against damage. Protect your investment with its one-year warranty, and order your ONIX Z5 pickleball paddle now!
Features
Available in 8 different pleasing colors
Recommended for individuals with a beginner skill level
Grip size measures 4 1/4 inches, providing a comfortable size for most players
Its material is made resistant to moisture and impact, ideal for frequent use
Its shaft material has high strength, low friction, and better resistance to corrosion and high temperatures
An adult-size paddle
Unique touch and ball control
Currently in the highest demand
Resembles a tennis racket's handle
Made from plastic, which is best suited for sports equipment
It may not perform well in certain weather conditions
Onix Evoke Premier Pickleball Paddle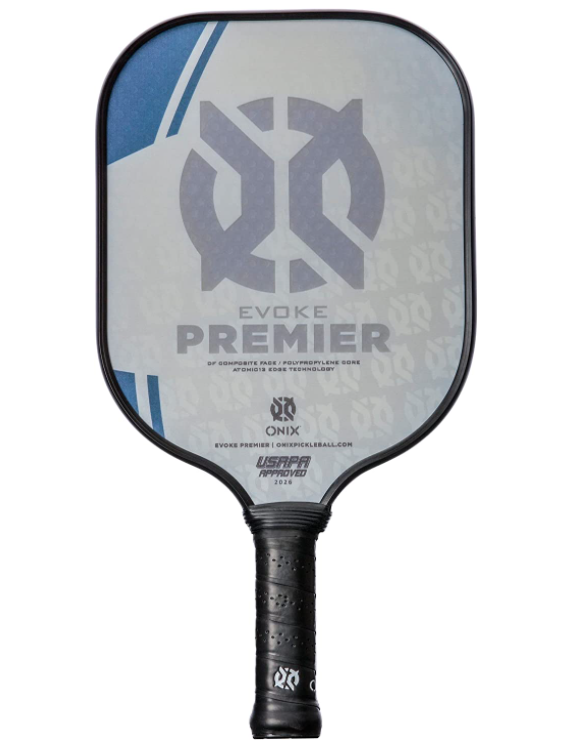 The Onix Evoke Premier Pickleball Paddle results from the collaboration between Pickleball National Champions Matt Wright and Lucy Kovalova. Its 16″ x 8″ paddle shape slightly increases reach and maximizes baseline power. The paddle features Atomic13 Edge Technology, specifically designed to disperse shock while increasing swing speed. In addition, the DF Composite Face provides a consistent minimal coating on the surface, which softens the ball without losing any spin or pop off the composite face. This makes it easier for players to control the ball and make accurate shots. The paddle also features a precision-cut polypropylene core.
With its eye-catching design, this rack is perfect for individuals fond of aesthetically pleasing paddles. Whether you prefer the striking look of a bright red frame or the calming appeal of a blue one, this rack will make a statement in any setting. Its unique design provides a functional solution for your pickleball paddles. Its top-quality polypropylene ensures maximum durability and resilience even when exposed to rough handling or extreme weather conditions. Overall, this product is a perfect selection for those who value quality, durability, and practicality in their equipment. So, be Ready to step up your pickleball game with Onix Evoke Premier Pickleball Paddle.
Features
It's not too heavy or too light
A reliable choice for outdoor activities and adventures
Its shaft material is made of aluminium and efficiently manages heavy usage
Available in two vibrant colours of Red and Blue adds a pop of colour to your game
The age range is targeted towards adults, providing a size and weight that is comfortable and practical for them
30 days warranty
Good for all skill levels
Attractive design
High performance
High-Quality construction
may produce a loud noise upon impact
ONIX Outbreak Pickleball Paddle
This paddle makes you stronger, faster, and more accurate when playing. It has a special TeXtreme technology that makes it strong and stiff. This technology is often used in professional tennis rackets, hockey sticks, and special helmets. The paddle is not too heavy or bulky, weighing around 7.8-8.2 ounces, which gives a good balance between the weight and feel. The inside of the paddle is thick, which helps you control the ball better while still hitting it hard. It has a larger surface area than other paddles, giving players more space to hit the ball correctly. Its dimensions are 15 1/2 inches long, 8 1/8 inches wide, and 1 3/8 inches high are big enough to provide you with a larger hitting surface. This paddle got all the qualities to become your best game friend, helping you win and have fun. Go for it and rule the game.
Features
Trusted high-performance equipment of severe players
Enhanced framework for greater rigidity without the additional mass
Graphite face reinforced by TeXtreme Technology for better touch and control
30 days warranty 
Medium-weight
Largest sweet spot
Wide Body paddle shape 
Limited options for customization or personalization
Onix Stryker 4 Pickleball Paddle
The Onix Stryker 4 is a top-performing pickleball paddle created for all levels, specifically intermediate and advanced players. This paddle is crafted precisely. Its ability to deliver consistent and exceptional touch at the net is one of its most remarkable traits. This attribute is crucial in pickleball since it requires perfection and a smooth hold when making delicate shots. The paddle's oversized shape increases the hitting surface, which leads to a more expansive sweet spot. This quality gives players an edge over their opponents. Additionally, the paddle simultaneously delivers an impressive combination of versatility and suitability for aggressive and defensive styles. Additionally, the paddle delivers impressive versatility and suitability for aggressive and defensive playing styles.
The Onix Stryker 4 pickleball paddle possesses a unique oversized shape with a comfortable grip to minimize tiredness and improve ball control. This paddle is built to last with a trusted long-lasting construction, making it a good investment in a high-quality paddle. On the whole, the Onix Stryker 4 proves to be a trustworthy partner on the court for play.
Features
A perfect option for beginners and professionals alike
Crafted from tough and resilient plastic material
Helps players to focus on their game without worrying about their gear
This pickleball paddle is tailored to the needs of adults players for competing at a high level
Weighing in at a light and elegant 6.9-7.4 oz secures quick and agile movements for improved game tactics
A width of 7.8 inches gives players an extended sweet spot, providing them with an edge and increasing their success ratio
Polypropylene inner core
Expanded sweet spot
Graphite surface
For players of all levels
The textured surface may challenge players accustomed to smoother surfaces
Onix React Pickleball Paddle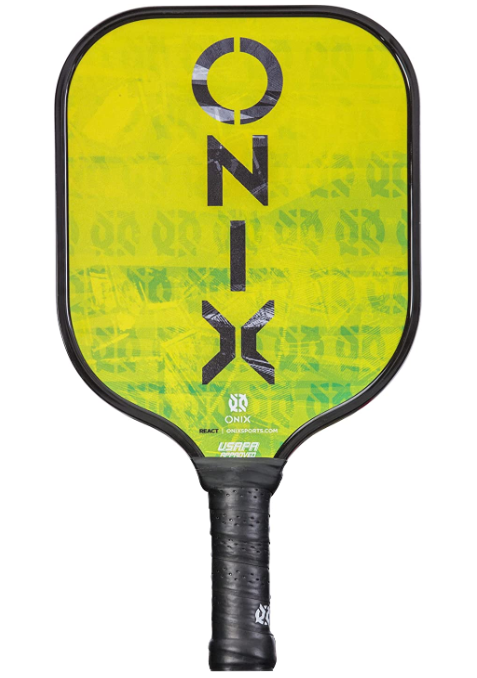 The Onix React Pickleball Paddle is an exquisite paddle which aids in reaching the game's full potential. Its advanced polymer core provides excellent touch, control, and power behind the ball. Its Fusion Core technology helps to enhance the sweet spot. The paddle is developed with an oversized shape and width, providing a larger hitting surface area and a more generous sweet spot. In terms of dimensions, the Onix React Paddle has a size of 15.5 x 8.3 x 1.5 inches, making it larger than most standard paddles. Additionally, the paddle has a comfortable grip size of 4 1/4 inches, perfect for players who want to maintain control and minimize hand fatigue.
The Onix React pickleball paddle is also equipped with an Edge Guard to protect against damage from accidental hits or drops. It exhibits a tennis handle grip shape for a natural feel for players. The widebody paddle shape put up an expanded sweet spot. Its weight ranges from 8.3-8.7 ounces, and the paddle genera enough force to throw the ball to the other side of the net. Ready to dominate the pickleball court with Onix React Pickleball Paddle Order yours now and step up your pickleball game!
Features
The paddle's dimensions of 15.5 x 8.3 x 1.5 inches for a practical playing experience
With a grip size of 4 1/4 inches, the paddle is the best fit for players with varying hand sizes
Featuring Fusion Core construction, the paddle blends Polypropylene material with a Nomex insert for superior performance
Engineered for players of all skill levels, including beginners, intermediate, and advanced players
The paddle is customized to the needs of adult players, providing an optimal fit for players of different ages
Blended core
Uphold mastery
Handle length  of 5″
Augmented  hitting area
Enlarged  paddle dimensions
A break-in period may be required for optimal performance
ONIX Voyager Pro Pickleball Paddle
This paddle has a carbon fibre face and a Nomex honeycomb core, which provides a large sweet spot. It is equipped with EdgeSentry technology, which protects the paddle from damage caused by accidental hits on edge. This technology is especially useful for players who frequently hit the ball with the paddle's edge. The paddle grip is made with a cushioned, perforated material that absorbs sweat and enhances hand control. The paddle specifically meets the playing needs of adult players.
The ONIX Voyager maintains its original touch while delivering enhanced control by utilizing a premium-coated graphite face and precision-cut polypropylene. Despite having a thicker core, the paddle's weight has remained the same, which makes it easy to handle. Likewise, the Wide Body design, combined with the paddle's carefully calculated construction, allows players to quickly achieve the perfect spin and torque on the ball, no matter how many times they play. Make sure to get a good game. Upgrade your equipment with the ONIX Voyager Pro Pickleball Paddle and feel the improvement in your shots.
Features
It is designed for professional skill levels
Constructed with superior plastic materials and able to withstand heavy use
The paddle comes in a sleek white colour that gives it a clean and modern look
With a weight of just 8.2 ounces, the paddle is light in weight and effortless to handle
This paddle is backed by a 1-year warranty, offering the user security and reassurance
Plastic material
Grip size of 4 1/4 inches
Graphite frame material 
Graphite shaft material
Limited availability in some regions
Our Favorite Picks
Our favourite picks for the best Onix pickleball paddles are The ONIX Graphite Z5 Carbon Fiber and Onix Stryker 4 Paddles. Both impressed us with their technology and performance. You can confidently choose either paddle, knowing they are high-quality and will give you the edge you need to win.