If you're a pickleball player who loves to hit hard and fast, you surely need the best Pickleball paddles for power. The importance of a power paddle in pickleball cannot be overstated. It enables players to hit the ball more precisely and increases their winning chances. Investing in a quality power paddle can significantly affect a player's performance and overall enjoyment of the game.
The best power paddle aids you in dominating the court and crushing your opponents easily, offering maximum control to deliver powerful shots. So, let's explore our guide and find the best pickleball power paddle for you.
10 Best Pickleball paddles for power 2023
Selkirk Sport SLK Latitude Pickleball Paddle
The Selkirk Sport SLK Latitude Pickleball Paddle is an exceptional choice for pickleball enthusiasts looking to improve their game. The paddle features an innovative design, superior construction, and standout aesthetics, giving players an edge on the court. It's made from a unique blend of fiberglass and polymer, which makes it both lightweight and robust.
The paddle's lightweight construction, weighing only 6.9-7.9 ounces, enables swift hand movement at the net, making it a favorite for many players. The widebody shape of the power paddle also provides an expanded sweet spot and greater accuracy. In short, if you're a beginner or a seasoned player, this paddle is an asset to your pickleball gear.
Features
Vibrant and eye-catching design
Edge Sentry Edgeguard for durability
Ultra-Cushion Grip for sweat absorption
G4 Control Graphite face for ultimate control
Polymer Rev-Core technology for reliable hits
Non-slip grip
Suitable for all levels
Rapid hand movements
Grip circumference and length might not be suitable for all
Adidas ADIPOWER ATTK Carbon Pickleball Paddle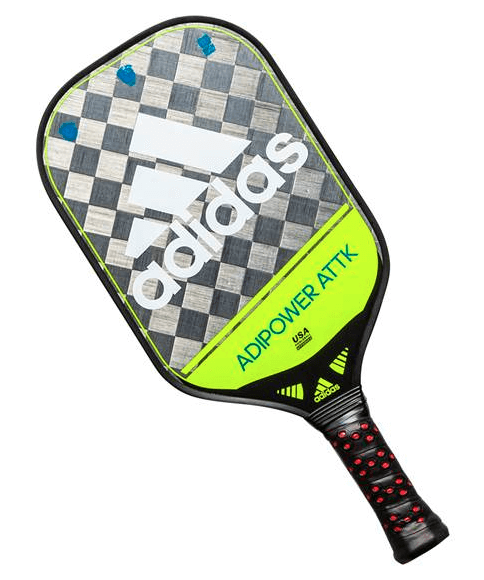 The Adidas ADIPOWER ATTK Carbon Pickleball Paddle offers a competitive edge to players seeking a powerful paddle. Its advanced technology and high-quality materials provide a perfect balance between strength and touch. The agile construction of the paddle enhances swing speed and movement, while the short handle length of 4 3/4″ prioritizes shots.
It is easier for players to handle it due to the Smart Holes Curve technology that expands the sweet spot and improves shot accuracy. The sleek and modern design of the paddle exudes confidence and style. Overall, the ADIPOWER ATTK delivers exceptional performance, making it an excellent choice for anyone looking to take their game to the maximum height.
Features
Thin grip size for better control and player comfort
Edge guard technology for longevity and performance
Standardized polypropylene honeycomb core for maneuverability
Elongated shape for power and luxurious feel for different playing styles
Carbon fiber face for strength and touch, enabling precise powerful shots
great spin
Ergonomic handle 
Comfortable to hold 
Controlled agility for shots
Withstands intense gameplay
JOOLA Ben Johns Hyperion CFS 16mm Swift Pickleball Paddle
This paddle is specifically designed for high-level players who demand maximum consistency in bounce and optimal feel on the court. The upgraded materials of this paddle make it lightweight and fast-swinging, enhancing hand speed and increasing shot strength.
Its Carbon-Flex5 textured surface is more advanced and durable, providing maximum spin and raw power. Despite weighing 8.2 oz, this paddle is a worthwhile option for players prioritizing performance and endurance over the lightest possible weight.
Features
Hyperfoam Edge Wall expands contact area
Honeycomb core maximizes bounce consistency
The elongated shape offers serenity and assurance
Carbon Friction Surface provides the increased rotation rate
Carbon-forged handle for lightweight yet high-strength power
premium quality 
delivers increased spin and responsiveness
Catering to the needs of advanced players 
The elongated paddle shape requires adjustments
DIadem Vice Middleweight Carbon Fiber Pickleball Paddle
For those who value both top-notch performance and stylish design, the Carbon Fiber Pickleball Paddle stands as the ultimate option. The specialized coating on the high-grade carbon fiber surface provides an unbeatable grip, making forehand finishes and soft drinks seamless. The Carbon Friction Surface (CFS) of this paddle delivers an increased amount of spin, allowing players to put more spin on their shots and gain an advantage over their opponents.
The paddle's weight of 7.6 to 7.9 ounces provides a powerful swing, making it perfect for players who need a paddle that can keep up with their style of play. The Diadem Vice Middleweight Carbon Fiber Pickleball Paddle has a length of 16.3 inches, which may not suit players who prefer lighter or heavier paddles. However, for those who prioritize high-quality and reliable equipment, this paddle is an excellent choice.
Features
Exceptional durability with unique EVA foam core
RP2 Grit Coating offers ultimate ball grip
Produces distinctive dampened sound players appreciate
Softest paddle for many matches
Softness offers player comfort and less strain
Unparalleled power and regulation
Elongated for dexterity and mobility
Indoor/outdoor versatility
This is a prototype paddle subject to changes.
Wilson Juice Pickleball Paddle polypropylene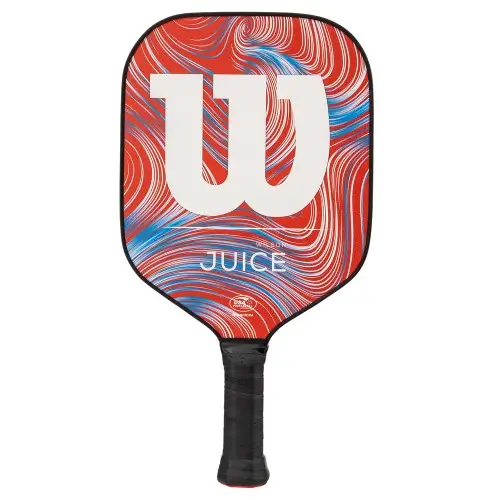 The Wilson Juice Pickleball Paddle is the perfect fit for players looking to dominate the game. Its broad face and large sweet spot provide responsive shots even when the ball isn't hit dead center. The paddle's unique surface treatment delivers a mean spin, giving players the ability to change up their shots and control the game's pace.
With exceptional shot depth, accuracy, and spin, the medium-weight Wilson Juice Pickleball Paddle excels in every aspect of the game. However, the broad face may not be suitable for everyone, and players with larger hands may find the small grip size circumference of 4.25 inches uncomfortable. The Wilson Juice Pickleball Paddle is available in White with gray accents and Gray Camo color options that offer players a choice of sleek and stylish designs to match their personal preferences.
Features
USAPA approved for tournament play
Textured surface enhances ball placement
Core reduces vibrations, eases player fatigue
Comfortable grip for a secure hold and better flexibility
Textured surface for enhanced turn and shot positioning
Anti-vibration technology 
Versatile and comfortable
Edge guard prolongs the lifespan
Some players may find the broad face awkward.
Engage Pickleball Encore EX 6.0 Pickleball Paddle
The Engage Pickleball Encore EX 6.0 Pickleball Paddle is a high-performance paddle with various advanced features. The Encore EX 6.0 paddle offers a supreme power, control, and touch blend, making it a versatile choice for various game scenarios. The paddle's optimized weight distribution provides players with increased nimbleness, enabling them to execute shots with greater accuracy and consistency.
Furthermore, the paddle's textured surface enhances spin potential, which is ideal for players who prefer to incorporate spin into their game. The paddle also features a tapered edge design that reduces wind resistance and improves overall speed. Its advanced features make it a top pick among pickleball enthusiasts. Its durable construction ensures that it will last for many games.
Features
Provides a responsive and quiet playing experience
Polymer core provides excellent performance and reliability
Responsive paddle with a large sweet spot for stable shots
A quiet paddle that doesn't produce much noise when making contact with the ball
Effortless topspin
Encore's Textured skin aids compression and release
Large sweet spot 
Advanced skin technology for extra pop & ball control
TMPR Oculus XT Middleweight Composite Pickleball Paddle
The TMPR Oculus XT Middleweight Composite Pickleball Paddle features a tennis-shaped fiberglass face and an oval-shaped design, making it a versatile and well-balanced option for intermediate and professional players. Its handle vibration-dampening technology reduces arm strain and fatigue, enabling players to focus on their game. With a paddle weight of 7.6 – 8.0 oz. and a paddle width of 8 3/8", suitable for most players.
Though, advanced players who prioritize control over power may find this paddle less suitable. It comes in a limited color selection of blue, red, green, and pink. The TMPR Oculus XT Middleweight Composite Pickleball Paddle is USAPA approved, ensuring it adheres to the standards set by the governing body of pickleball.
Features
Standard grip size of 4 1/4″
Unique graphic design on the face
15 7/8″ length for balanced play
Longer length provides a reach advantage
Honeycomb polymer core for power and control
Stylish design 
The large sweet spot for accuracy
Vibration-dampening technology
Not suitable for advanced players.
ProKennex Ovation Flight Pickleball Paddles
The ProKennex Ovation Flight Pickleball Paddles boast a sleek and modern appearance. It weighs between 7.3 to 7.6 ounces and features a comfortable cushion grip with a 4-inch circumference, providing a comfortable hold and consistent ball contact. The paddle's unique oval shape minimizes drag and enables quicker paddle rotation.
The paddle's replaceable and aerodynamic edge guard protects against scuffs, and its advanced materials and manufacturing techniques ensure exceptional quality and durability. Despite being pricier than other options, the paddle is worth the investment for players looking to take their game to the next level.
Features
Suitable handle length of 4 7/8 inches
Comfortable grip for improved control
High-grade graphite face with the large sweet spot
Shock-absorbing polymer core for reduced vibrations
Unique hole design reduces wind resistance and enhances swing speed
Consistent ball contact
Reduces arm strain
Replaceable edge guard
The tungsten beads may rattle.
PCKL Premium Pickleball Paddle Racket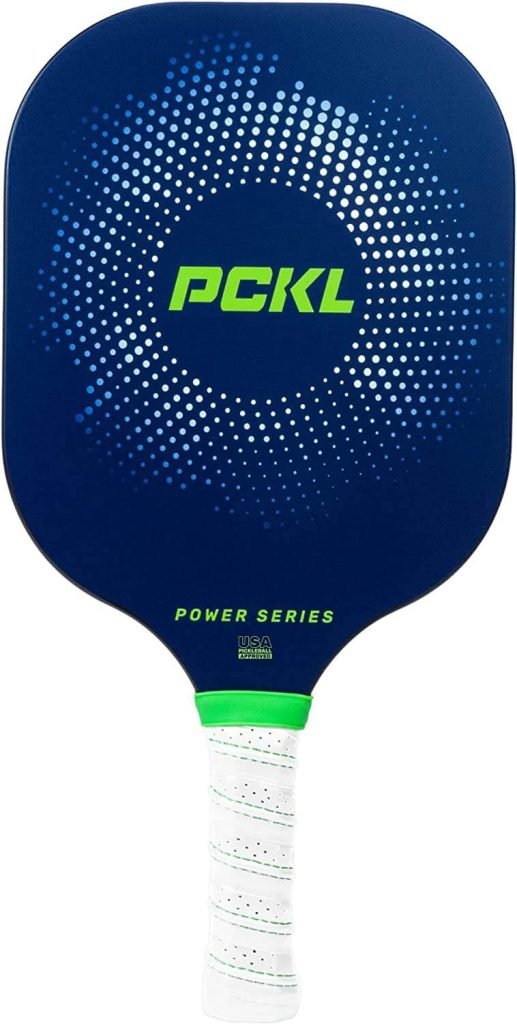 The PCKL Premium Pickleball Paddle is a revolutionary paddle with an edgeless design. This feature ensures players can hit the ball cleanly and confidently, without fear of mishits. The paddle's polypropylene core and rough grit carbon face allow fast swings, better spin, and more power. This feature is especially beneficial for intermediate players looking to improve their game.
The advanced materials deliver an impeccable feel and enhance turn, making it easier for players to achieve prime potency. With dimensions approved by USA Pickleball, the paddle measures 16 inches in length and 8 inches in width, making it an excellent choice for players of varying skill levels.
Features
High-grade graphite face
Slip-resistant corded grip for a secure hold
Wide 8-inch surface area for hitting the ball
Lightweight and easy to handle at 7.5 ounces
Chic and modern design with attention-grabbing graphics
Sturdy, enduring build
Simple to handle and steer
Enhanced grasp for improved shot command
Not suitable for powerful swings.
Head Radical XL Pickleball paddle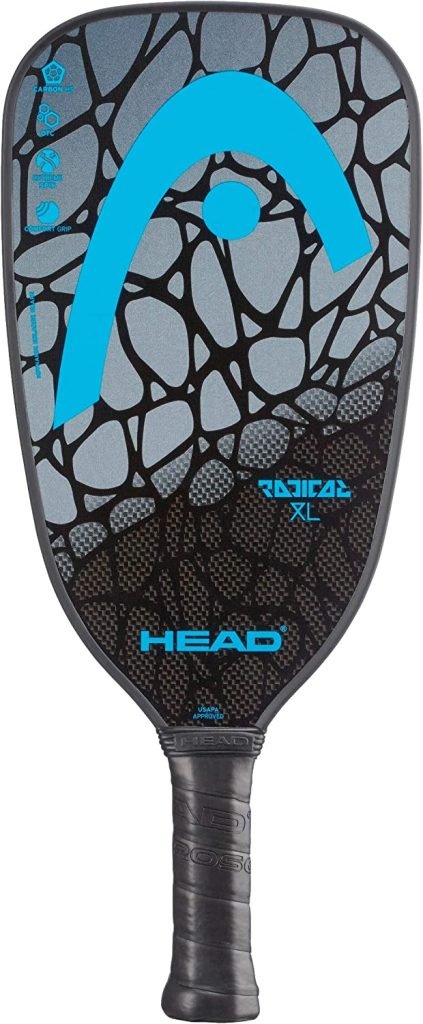 Head Radical XL Pickleball paddle has an innovative pattern combining advanced technology and attention to detail. The graphite-hitting surface provides Advanced tactility and better handling, while the extreme spin texture on the face of the paddle offers a better grip on the ball for well-balanced shot placement. This paddle's innovative attributes, including its lightweight, sturdiness, and responsiveness, are excellent investments for competitive pickleball players
However, beginners may find its higher price point and advanced features challenging to handle. On the flip side, Its sophisticated appearance and cutting-edge components make it a must-have for serious players looking to up their game.
Features
Standard grip size of 4 1/4 inches
Polypropylene honeycomb core ensures longevity
New Ergo Grip minimizes vibration for a better touch
Unique OTC honeycomb polymer for perfect shot management
Textured surface
Absorbent grip
Elongated shape, the larger sweet spot
The smaller sweet spot in the center of the paddle.
Key Takeaways
To achieve a more powerful shot on the court, selecting the best pickleball paddles for power is crucial. These paddles offer a variety of features, including lightweight construction, elongated shape, and textured surface, that enhance grip and shot placement to bring your game to the maximum joy of victory. You can choose any of these best pickleball paddles for power to improve your pickleball game as all are good.