Desperate to play pickleball but running low on budget? Need help finding the right and best budget-friendly pickleball paddle for yourself? Your search will end as we come up this time with four amazing and best pickleball paddles under $100. Does it sound good to you now? If your answer is positive, then this guide is for you, which will, in the end, will save you time and money as well.
We only picked the top 4 best paddles available in the market with good intensity, control, and power. Every minute you spend reading this guide will be worth it, as, in the end, we will share our final thoughts on it as well. We will make it easy for you, so you can pick the right paddle after reading this guide.
So, let's dive deep into it and discuss each in detail.
Best Pickleball paddle under $100
Usually, beginners are looking for a pickleball paddle under $100 as they start their careers, so they are still determining whether they will pursue it or leave it out in the middle. But, it doesn't mean that only beginners look forward to this price segment only, some experts also buy the paddles for practice.
Few picklers prefer brands over growing pickleball paddle-selling brands. We have come across a few best paddles in the low range for beginners after using them for quite a long. Let's get started.
ONIX Graphite Z5 – Larger Sweet Spot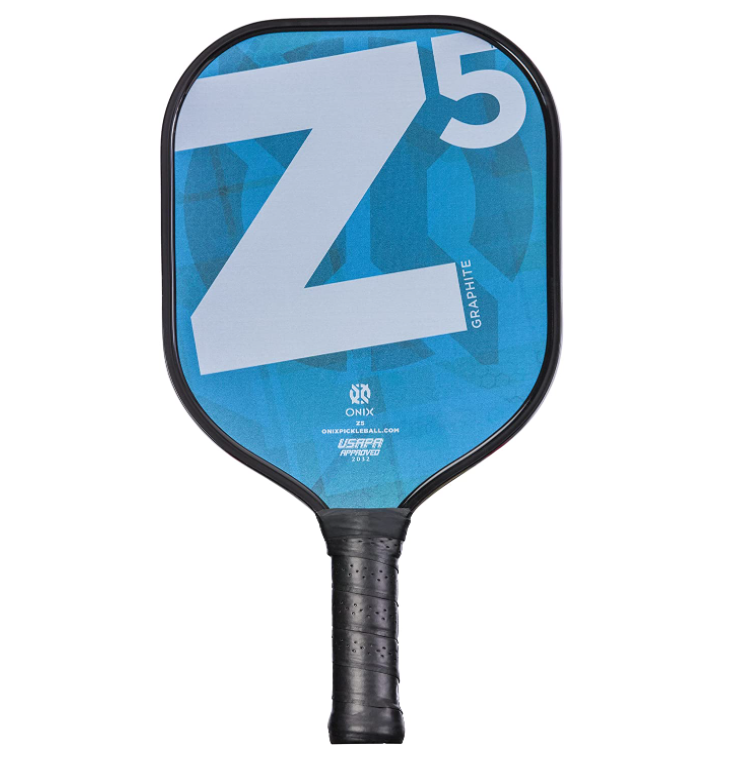 Z5 is one of the most powerful paddles we are going to discuss. A durable Nomex core and hard and thin honeycomb core kind of material give this paddle great power and pop. This one is different from the other polymer paddles available in the market. It has a greater solid hitting surface over a softer feeling face. Graphite face is a plus as it provides some good control.
Z5 has an extra-wide and large sweet spot, which makes it the best pick for anyone. Many expert picklers use this ONIX Z5, even in a pool match.
Key Features:
The touch and control feature of Graphite Z5 is super cool
A mid-range paddle for both beginners and professionals.
The shape is more like a tennis racket, making it look different and comfortable.
Protected by edge guard to provide greater spin during the game
An average-weight paddle, ideal for players looking for decent ball control.
It follows all international standards set by USAPA (United States of America Pickleball Association), so you can use this paddle in any official tournament.
Larger sweet spot
Amazing control for picklers
Power and spin are great
It can be used by beginners and even professionals 
USAPA Approved
The paddle cover is missing
TICCI Pickleball Paddle Graphite Craft – Best Value for Money
It is loaded with newly emerged cutting-edge technology to provide the best in game experience. The face of the ticci paddle is made from ultra-premium fiberglass, creating an ultra-smooth surface for increased ball control, durability, and accuracy.
Moreover, it has an ergonomic handle which is comfortable to use and gives the best experience to picklers. The greater energy factor of this graphite craft paddle allows great energy to spin the balls. In contrast, the interior polymer honeycomb core design is responsible for ultimate stiffness.
In addition, the lighter weight build of this paddle allows easy swing, so you need to add less effort to it, which is exceptional. As mentioned above about the grip, the sweat-absorbent behavior reduces the chances of slipping.
Key Features:
USAPA is approved so that you can use it in any international tournament.
Premium fiberglass paddle face, reducing weight with amazing stiffness, and can perfectly strike a ball.
The fiberglass face provides greater energy to spin the ball.
Ergonomic grip to hold it well and improve balance.
Good stiffness
Sweet absorbent grip
Easy to hold and play
Greater energy for swings
A paddle's life span is between 1 year to 1 and a half years.
HEAD Radical Pro Pickleball Paddle – Best for Speed and Power
One of the biggest giants of the pickleball industry, guess who? None other than HEAD (The Boss) and radical head pro are one of the finest additions by the company. This paddle is usually used by the ones who focus on more power and speed.
The textured finish of the surface gives an immense spin on the ball for increased power and provides accuracy to shot placement. The grip is comfortable as it doesn't slip from your hands while you make any contact with the ball. The latest technology has been used to reduce vibration after each hit.
It is made from a polypropylene honeycomb core and ergonomic grip, enhancing the experience with great control and power. The weight of this paddle is around 225-235 grams, which is on the lighter side.
Key Features:
Fiberglass hitting surface that gives a great feel and amazing power
Loaded with extreme spin texture on the paddle face to provide a decent grip on the ball for greater spin and placement of the shot.
The latest polypropylene honeycomb core technology reduces vibration after making contact with the ball.
Fiberglass hitting surface 
Lightweight – Easy to hold
Loaded with all the latest techs
One-year manufacturer warranty
JP WinLook Pickleball Paddles – Best durable paddles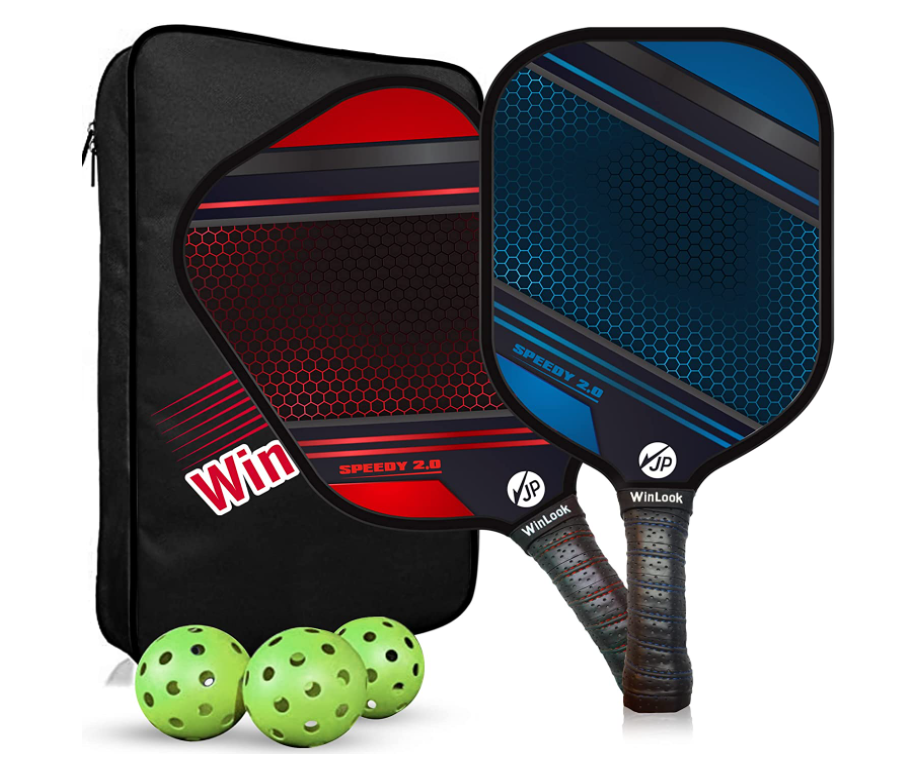 Another more powerful and lightweight paddle is under $80. The honeycomb-shaped core paddles and a graphite face offer the latest cutting-edge technology for greater power and spin. These paddles could be used either by a newbie or a pro. It works the same for them.
With JP Winlook paddles, you can get maximum balance and control to hit with full power and force. They are lighter and have a non-slippery grip, providing more power and spin control. When it comes to construction, we are unable to find any serious issues with its durability.
Key Features:
Soft cushion material to provide a non-slippery grip for more comfort
Polymer honeycomb paddle provides lightweight construction and maintains durability
Graphite face for more power and amazing spin control
Precisely drilled holes in the paddles to reduce wind interference and deliver a consistent flight path.
It provides more balance, power, and comfort, which is a plus.
More balanced and powerful shots
Lightweight construction 
Non-Slippery grips
Less wind interference
USAPA certified
Slight edging issues after some time.
FAQ's
What is a good price for a pickleball paddle?
One must find a way to pass any argument about the pricing, as it all depends on the type of material used to make that specific paddle. If it is made from wood, it may cost around $14 to $40. The composite one costs you around $40 to $100-110. At the same time, graphite-made paddles cost between $60 to $200.
What is the lifespan of a pickleball paddle?
It depends from person to person how they use it. But in general, the lifespan of a pickleball paddle is from 1 to 5 years. For recreational players, the lifespan might increase.
Which one is better, paddle graphite or fiberglass?
As a beginner, we recommend you use fiberglass paddles initially to improve your game and accuracy. Later, you get an idea of which is best for you. As there is nothing wrong with each of them, they are inches closer to each other.
What are the 2 essential tips for playing pickleball?
Every pickler might have a different point of view on this, but many of them agree on the following tips, which we usually recommend to our readers, and these are: 1. Keep the paddle high, near to your chest. It will help you to reduce your reaction time and act quickly. 2. Keep the ball in play and let your opponent make the mistakes. 
What is a golden pickle in pickleball?
When any team wins a pickleball game while at its first serving and not allowing the opposing team to earn a point or serve the pickleball, there is one more term related to this golden pick which is known as a good shot. When your partner or opponent hits a nice shot, it is called a good shot.
Final Verdict:
Summarizing everything we have discussed above, it's time for us to give you an idea about the one paddle we recommend as one of the best pickleball paddles under $100. As you have spared your precious time and read the guide, we are pleased to inform you that we will narrow it down more for you.
HEAD Radical Pro is our pick from the above four because of its power, speed, spin, and less vibration.
Everyone has a personal choice, so no offense if you are interested in some other paddle. Before buying any of the above paddles, keep the following things in mind to get the most out of your new pickleball paddle. These are speed, weight, power, and the spin above them.
Write in the comment box if you still have any doubts. We would love to help you out.