Pickleball is an exciting sport that has won the hearts of many over the last few years. However, just as is the case with any other hobby it can be expensive to purchase the equipment to keep playing. Additionally while keeping things under budget you also want to make sure that there is no compromise on quality. Priced under $50 these best pickleball paddles have been made so the sport becomes accessible to all players out there.
Matching the stamina and longevity of high-end pickleball paddles, these models offer support and comfort to the players on the court. We have compiled a list of the best pickleball paddle for under $50, each one equipped with high-end features and featuring durability. Let's dig deeper and get a closer look at each one.
Best Pickleball Paddle Under $50
In an ideal pickleball paddle, we want to find either true power made of a thinner poly core or some real control developed with a thicker poly core. Made with fiberglass, carbon fiber, or graphite, each of the pickleball paddles discussed below has unique features that will definitely enhance your experience.
We can guarantee you will not regret Investing in these pocket-friendly pickleball paddles. They will help you hit bomb shots over the net without you having to burn a hole in your wallet. With this detailed guide you will be able to select the best pickleball paddle under $50 to take home with you.
Diller Pickleball Paddle – Most Durable
Manufactured by the company that invented the game Pickle-Ball, Inc., the Diller is for players who want to experience the original play. Made from seven layers of heavy-weighing wood, the Diller Pickleball Paddle is exceptionally reliable. That paddle will not crack easily on the court, even when you hit the toughest shots.
The Diller is one of the best pickleball paddles for under $50 as it packs a lot of power behind every shot. Due to its tempered grip, using the Diller is significantly comfortable. The cherry on top is that they are eligible to be used by professional players in tournaments.
Key Features
Constructed with sturdy 7-ply alternating grain hardwood, the paddle has immense power
Equipped with a wrist strap that paddle provides a highly cushioned grip
Pressure is absorbed by the wooden surface which leads to reduced bounce back at every short
That paddle requires less effort against air resistance when striking due to its smaller weight, size, and shape
Extremely durable
Very comfortable to use
Slower flight balls for easy play 
Suitable for children and adults
In a nutshell, we recommend purchasing the Diller PPickleballPaddle as it has a lot to offer in terms of strength and durability. People around you will hear the sharp smack of each hit you take with that paddle.
Rally Meister Pickleball Paddle Deluxe Bundle – Best for Beginners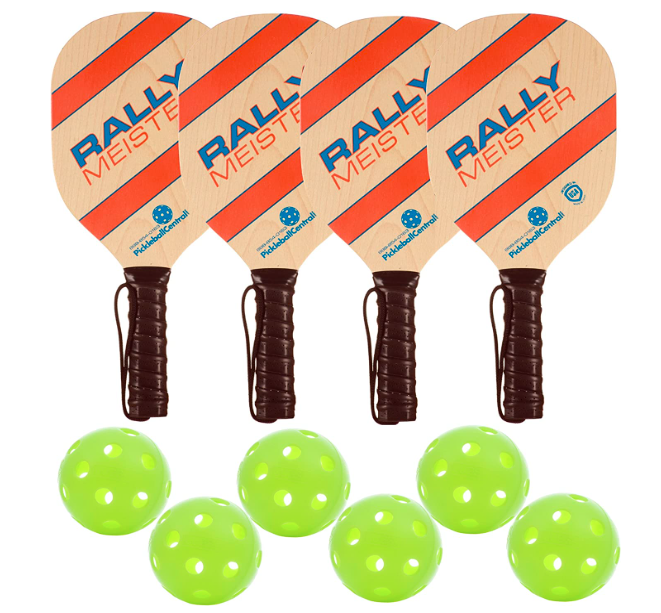 Truly one of the best pickleball paddles for under $50, the Rally Meister is the perfect mix of finesse and quality. With a wrist strap that reduced the risk of the paddle flying away from the hand, that paddle is notably safe to use. With a cheap price tag and durable build, pickleball is ideal for beginners. As they can test out their shots and runs on the court without having to stress about breaking the paddle.
The Rally Meister has become famous amongst novel players of pickleball as it is inexpensive and will not compromise your game. Featuring a top-notch grip found in more expensive composite paddles, the Rally Meister compresses quite less when squeezed.
Key Features
With a strap for the wrist that paddle provides a secure grip
Cut from alternating plies of white maple that paddle is substantially resilient and comparatively lightweight
Featuring a slightly elevated ribbing around the handle the players get a tremendous feel on gripping the handle
Constructed with seven plies of maple glued together the ridged paddle core is incredibly powerful.
Comfortable grip
Safe for use 
Versatile
Large sweet spot
Reduced surface area for hitting a shot
Not suitable for experienced players
Overall, we suggest giving the Rally Meister a try as they are highly recommended for learning the basic levels of the game. Furthermore, you can play carefree on the court without worrying about the paddle being damaged.
Niupipo Pro Graphite Pickleball Paddle – Best for Accuracy
Made with a high-end graphite material, the Niupipo Pro Pickleball Paddle gives its users a nice bounce. An extremely powerful tool that can be purchased for under $50, that paddle is a smart investment. Comparatively superior in terms of texture, balance, and build to its competitors, that pickleball paddle brings longevity and strength to the court.
If you are a beginner to the sport of pickleball, then the Niupipo Pro Pickleball Paddle will be easier for you to use. Do not be fooled by the light weight of the paddle, it can still allow you to hit strong shots. The design of the grip is such that it absorbs moisture which will ensure that the paddle never slips away from sweaty hands.
Key Features
Built with graphite material that enhances the strength of the player's strike
Its perforated and sweat-absorbent qualities mean that the paddle can last for long tournaments
The smooth face of the paddle makes it perform exceptionally well if you hit flats
With a rugged edge guard you can try to aim for the low shots without stressing about spoiling the paddle
The protective edge also decreases the chance of mishits as it is substantially slim.
Comes with proactive edges
Can be used by players with both small and big hands
Long service life
Easier for trick shots and hand switches
The paddle lacks texture for spins
Difficult to control
In the end, we have placed the Niupipo Pro Pickleball Paddle on the list for the best pickleball paddles under $50 as it is an amazing paddle to hone one's skill on. That Pickleball racquet creates such a strong and supportive paddle grip that you can play for a long time without feeling fatigued.
GAMMA Sports Fusion Series Pickleball Paddle – Best Overall
You must be wondering what makes the GAMMA Sports Fusion Series special enough to be one of the Best Pickleball Paddle Under $50. With its surface and innovative technology, the impact of the ball is significantly amplified. Made to accommodate every player's fit and energy levels, the GAMMA Sports Fusion features a Honeycomb Cushion Grip. This exceptional characteristic means playing with the paddle is very enjoyable and it makes the player feel secure in hitting adventurous shots.
A fantastic juxtaposition of quality, comfort, and affordability, the GAMMA Fusion Pickleball Paddle provides a lot of power in every shot. If you have been searching for a paddle with a wide surface area, the GAMMA Fusion should be your pick.
Key Features
Offer a comfortable, sweat-free grip
Features a textured composite face that augments the power on the court
Fitted with the Sensa Poly Core technology that paddle augments every contact with the ball
Equipped with a Signature GAMMA Honeycomb Cushion Grip that paddle enhances performance on every shot
The texture of the paddle is highly suitable for many top spins and slices.
Very Solid Paddle
Can be used both indoors and outdoors
Amazing for ground strikes
Provides quicker hand speeds
Wide Paddle Face
On the heavier side
Is only suitable for recreational players
In the end, we think the GAMMA Fusion is a pickleball paddle that can be used by beginner and intermediate players to enhance the precision of their game without having to let go of power.
Rally Flare Graphite Pickleball Paddle – Best for preventing Tennis Elbow
The Rally Flare Graphite Pickleball Paddle is the jackpot of all pickleball equipment. With the perfect balance between light and middle-wight paddles, the Rally Flare offers its users the ability to perform with faster reactions. For someone who has a tendency towards tennis elbow, that pickleball paddle provides a better defense combined with swift strokes. So with the Rally Flare, you can place more power into hitting the ball.
Featuring a universal-sized cushion comfort grip and a standard-sized head the Rally Flare makes for an intuitive feel. With that paddle, you can play all day long without having to worry about your arms getting tired. Developed with the intention of being versatile and engaging, the Rally Flare is a sturdy paddle that can withstand the demanding requirements of the game.
Key Features
Showcasing a smoothly flared endcap and slightly elongated handle the paddle offers a decent amount of power and strength to the player.
Made with graphite, the light weight of the paddle ensures that your arm is not weighed down
The light weight of the paddle makes it straightforward to maneuver the ball in your preferred direction
The increased reactive feel of the paddle owing to its vibration-reducing core
Incredibly responsive
Very light
Provides consistent performance in ball placement
Can be used for long hours of play
Lacks texture for a spin
Unsuitable for players with large hands
In summation, considering the asking price and perfect abilities of that paddle, we truly believe the Rally Flare Graphite is one of the best pickleball paddles under $50. It is a great all-around beginner paddle.
Frequently Asked Questions
Is graphite or fiberglass better for pickleball?
Graphite is a strong material that provides plenty of power from inside the very thin layer. However, The light flex of the fiberglass material offers extremely precise performance in your pickleball play. Fiberglass paddles are recommended for players who are looking to enhance their game by improving their accuracy. 
Do expensive pickleball paddles make a difference?
In expensive paddles, the polymer used is of superior quality which means it will not wear down as easily. The material also provides a more consistent feel across the face. There is also a difference in core density in the expensive models. 
How much should you spend on a pickleball paddle?
The price of a pickleball paddle mainly depends on the type of material that has been utilized in manufacturing. Wooden pickleball paddles have a price tag between $ 15 – $30. In order to purchase a composite pickleball paddle you will have to spend between $40 – $100 while graphite ones go all the way up to $90 – $200. 
Our Final Recommendation – Best Pickleball Paddle Under $50
Trying to find the perfect pickleball paddle at a low cost can seem a little daunting. You do not want to end up with a pickleball paddle that is unable to perform on the court. To make your job easier we have finalized the top Best Pickleball Paddle Under $50. We are happy to announce our selection:
GAMMA Sports Fusion Series Pickleball Paddles as they are
If you have any further questions or doubts when finding the most suitable pickleball paddle write them down in the comment box. We would love to help you out!