Pickleball is considered a low-impact sport and an excellent option for people with arthritis pain. The sport involves a small court and a lightweight paddle, which reduces the strain on joints compared to other racquet sports. In this blog post, we'll explore the best pickleball paddles for arthritis pain that can help reduce joint pain and improve your overall game experience. So let's get started.
PROKENNEX Pro Flight Pickleball Paddle
The PROKENNEX Pro Flight Pickleball Paddle perfectly combines innovative technology and high-performance design. Constructed with high-tech Toray T700 Carbon Fiber material, this paddle has the quality to transform your game. Its proprietary Kinetic technology eliminates harmful shock and vibration, reducing soreness and fatigue in your wrist, elbow, and shoulder. This technology also minimizes the risk of injury. Its Cloud Core technology decreases the paddle's weight and enhances your power and strength while striking the ball. Furthermore, Its proprietary Diamond Frost micro-texture coating allows maximum grit exposure upon ball contact.
It is a high-quality product resulting from a collaborative effort between US OPEN and USAPA. It is perfect for intermediate to advanced players. The paddle's comfortable grip circumference of 4″ ensures a secure grip, allowing you to have complete control over your shots. Additionally, the handle length of 4 7/8″ is designed to cater to the needs of players who prefer a strong handle hold. Measuring a length of 15.43″ and a width of 7.6″, the paddle provides ample surface area to hit powerful and accurate shots easily. Equipped with a replaceable Air-O-Guard edge guard helps prolong the lifespan of the paddle, saving you money in the long run. With the paddle's skillfully engineered dimensions and shape, you can trust that it is optimized for high performance.
Features
It is best suited for adult players.
The shaft of the paddle is made from durable carbon fiber material.
It is a lightweight paddle, weighing only 0.48 pounds.
Its Kinetic System Technology is updated and advanced.
The paddle is carefully calibrated for faster swings and quicker reactions.
Appealing blue colour 
Comfortable cushion
 Carbon with diamond frost face
Cloud Cell poly core
Versatile and durable 
Paddle shape limits young players' reach and angle of shots.
Selkirk Amped Invikta paddle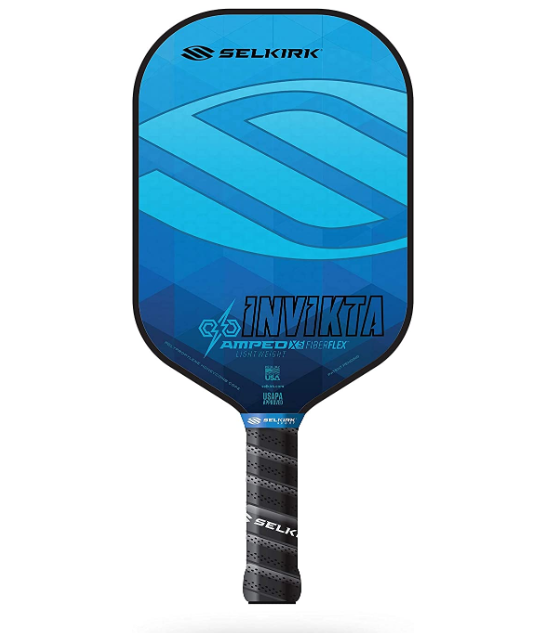 Selkirk's AMPED paddle is considered one of the best pickleball paddles for arthritis pain due to its innovative Fiberflex Fiberglass face and Polypropylene X5 Core. This combination generates unmatched ball spin and cushioning while reducing vibrational waves for a smoother feel and consistent speed. Additionally, the paddle boasts a unique appearance that distinguishes it from conventional paddles.
With an unparalleled sweet spot size, the paddle offers players a larger hitting area. Its elongated surface and the long handle provide players with complete court coverage and desired short power. With a grip size of 4.25 and the assurance of USA approval, you will feel confident and relieved from pain while holding this paddle and performing your best on the court. So, unleash your inner pickleball champion today and add the Selkirk Amped Invikta to your collection!
Features
The paddle comes in a striking sapphire blue colour
It holds an elongated shape which aids in extended reach
It is suitable for players of all skill levels, ranging from beginners to professionals
The long handle measures 5.25 inches, providing added leverage for more powerful shots
The paddle has a standardized width of 7.375 inches
A multipurpose paddle
 Handcrafted In the USA 
 Fiberglass pickleball paddle  
 X5 honey core comb
USAPA tested 
The paddle grip can wear out over time.
Franklin Sports Pickleball Paddle 
The Franklin Sports Pickleball Paddle is a well-versed 2-player set with all the necessary equipment for an exciting two-player game. The set has two aluminum paddles and two X-40 outdoor pickleballs. This paddle caters to all players, allowing them to use it easily. The paddle has a handle circumference of 4.25 inches, a size of 16 inches by 7.75 inches, and a weight range of 10.7 to 11 ounces, which can help reduce fatigue and joint pain.
The USA Pickleball Association (USAPA) endorsement makes this all-in-one, 2-player starter set an excellent choice for beginners who want to have all the required equipment to start playing the game. It has a sturdy aluminum core and a comfortable grip, providing superior performance and making it a long-lasting choice capable of enduring frequent utilization. This paddle set has everything you need to begin playing and enjoying the thrilling game. If you are looking for a handy paddle that offers endurance, this is the one for you.
Features
The paddle is specifically designed for adults
The paddle weighs 0.5 pounds, making it easy to handle
It is one sized paddle which is designed to fit most people.
Its grip size is 4 1/2 inches, providing a comfortable and secure hold
Manufactured by Franklin Sports, a well-known brand in the sports equipment industry
A larger surface area
Handle length of 6."
No paddle slipping 
Balanced and lightweight shape 
Handle circumference of 4.25." 
Paddle noise can be loud and distracting.
GAMMA Sports NeuCore Pickleball Paddle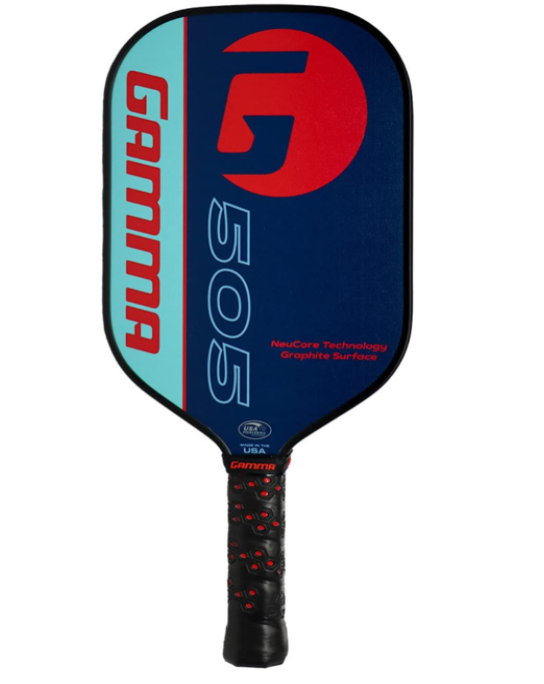 The USAPA-approved paddle showcases a honeycomb grip, a graphite surface, and a core made of NeuCore polypropylene. With a balanced blend of lightweight and durable materials, this paddle is an outstanding pick for players of all skill levels. Its honeycomb-cushion grip provides a comfortable and firm hold, which absorbs sweat and maximizes traction for superior control.
The powerful, light, and fast textured graphite face lead to exceptional performance. Its extended grip length is perfect for executing two-handed backhand drives. At the same time, the NeuCore Poly Core ensures ultimate responsiveness. GAMMA Sports is dedicated to supporting athletes around the globe, and its products aim to motivate players to keep playing. So, don't let joint pain limit you. Give it a try, and enjoy playing pickleball to shine like a pro!
Features
The paddle is particularly suited for intermediate players.
The paddle measures 16 3/8 inches, which is a standard size.
Its graphite frame is popular due to its stiffness and strength.
It is constructed of a combination of advanced materials.
The graphite shaft provides additional strength and stability to the paddle.
Grip size: 4-1/8″, 
Weight 7.6 Ounces
Best for adults players 
Provides perfect hold
Paddle face size may affect shot power.
Onix Evoke Premier Pickleball Paddle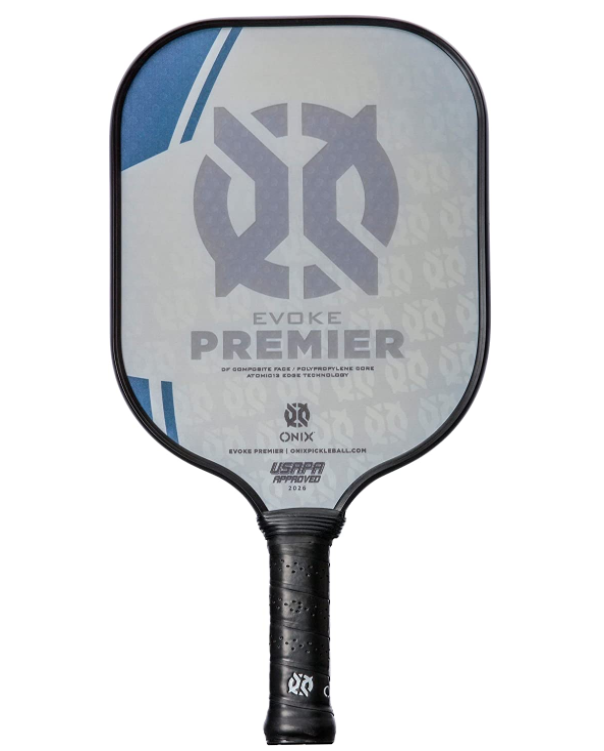 As the leading manufacturer of pickleball paddles, ONIX has built a reputation for providing athletes with the best equipment for their game. Similarly, the Onix Evoke Premier paddle is a top-performing paddle trusted by professional players worldwide. Its manufacturing results from a collaboration between two pickleball champions, Matt Wright and Lucy Kovalova. This paddle features the new Atomic13 Edge Technology, a specially designed-edge guard that disperses shock.
It measures 16″ x 8″, making it an excellent choice for maximizing baseline power. This paddle is one of the lineup's most influential and solid paddles, providing quality performance and stylish design. The beautiful blue colour of this paddle adds an element of visual appeal to the functional and aesthetically pleasing design that players love. The latest technology in its production ensures a perfect shape and beautiful design. Furthermore, the paddle's responsiveness is increased, making it a valuable asset for players. Overall, the ONIX paddle is absolutely essential for lovers of pickleball.
Features
The paddle has the most commonly used grip size of 4 1/2 inches
Its shaft carbon gives players a heightened sense of connection to each shot
This paddle is slightly larger than most pickleball paddles and gives extra reach
It is made of high-quality polypropylene material, ensuring durability and longevity
It's on the heavier side, which allows players to generate more momentum and swing speed
Impact shape
30 days warranty 
USAPA/USA approved
increased power and swing speed
Paddle weight can affect new players.
Key Takeaways
For players dealing with arthritis pain, choosing the right pickleball paddle is crucial. The best pickleball paddles for arthritis pain prioritize comfort and shock absorption to minimize pain and maximize performance. Paddles with innovative technologies like Fiberflex Fiberglass face and Polypropylene X5 Core are great options, such as the Selkirk Amped Invikta paddle and the PROKENNEX Pro Flight Pickleball Paddle, both are safe and easy on joints. Upgrade to one of the best pickleball paddles for arthritis pain and start playing comfortably again!